SouthLAndFirst spoke with Derek Ray (Cooper's new boot, Gary Steele) earlier this week for an interview.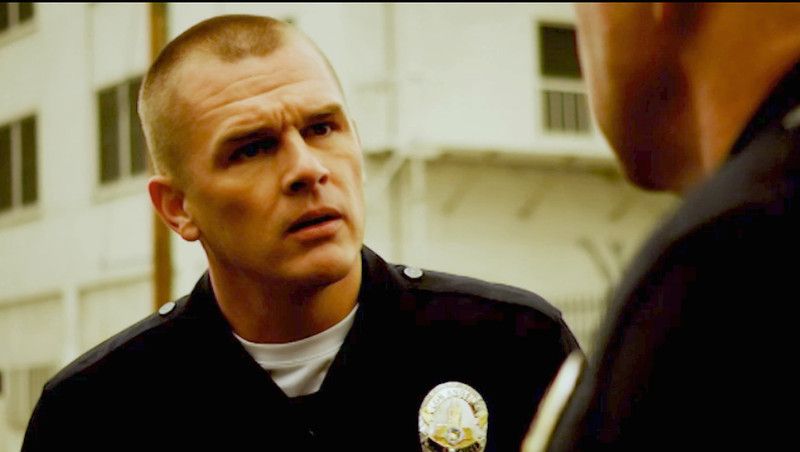 SOUTHLANDFIRST:

So give us a little background info.
DEREK RAY:

I grew up in Illinois. Southern Illinois.
SLF:

How tall are you? You look like you have an inch or two on Michael.
DEREK:

6'2". We're pretty much even.
SLF:

I watched an episode of Law & Order: LA where you played a surfer dude. I would never have guessed that Steele and the surfer dude were the same man. You look very different.
DEREK:

Yeah, I hope that's a blessing. That I can pull off both those. That edgier kind of blue collar cop kind of look. And a different look too.
SLF:

Tell us how you perceive your character - Steele:
DEREK:

Steele exposes a really cool reality with ex-military pursuing a career in law enforcement. It seems like it would be an easy fit, but the rules of engagement are much different. It even goes a lot deeper than what they could tell in two episodes. I have a lot of respect for that. It's something we don't think about every day. I just try to not judge him (Steele) and kinda be present. Because the things that unfold; you can totally see his side of it. He's used to coming home at the airport and people walking up to him and saying, "Thanks for your service." And, "Take a picture with my baby." He's a hero and he has a flag to fight for. Whereas, here with the LAPD and the things he encounters with Cudlitz, especially with the WWII vet and the incidence in the ice cream shop. It just, slowly he realizes he has nothing, he has no flag to fight for. He has no country to fight for. He's not a hero. To the people he's trying to protect and serve, he's a piece of crap, basically. Which is true. It's something I didn't think about certainly, before working on SouthLAnd. But it's something I think about now.
SLF: How did you get the part? Did you audition?
DEREK:

I did. I had never auditioned for SouthLAnd before, but I auditioned for John Levy. I was actually in there today auditioning for a John Wells show... I have a decent relationship now with that office. I'm actually seeing them later this week for another audition.
SLF: I think you do a really good job on the show.
DEREK:

Thank you so much. It's a really good show to work on and it's a really good show for actors. It's completely free, it's hand-held (cameras), there's no marks. It's a really easy show and really easy people to work with. It's easy to work with and the cast is great.
SLF: How was it working with Michael Cudlitz?
DEREK:

Yeah, ya know, it was really interesting. The perception I had of him was sorta like Cooper. This hard kinda guy. But he's very...he's a vet (of acting), you know. He's worked a ton. For a guy like me; that's probably going to go in the direction of playing roles similar to what he will. Or to what he has done. I was just like a sponge trying to soak up everything from him that I could. And he's a great teacher. He's a great actor; very simple with what he does. He shares whatever you ask him. He's very good to work with. It's not surprising he's had such a great career. He's very talented and a very nice guy.
SLF: How was it working with Tommy?
DEREK:

Tommy! (laughs). Tommy is...It was surreal actually, to be honest. We were forced to read The Outsiders in what? Seventh grade? And then we had to watch the movie. It's just one of those things where...I didn't realize it until I was standing next to him on set and I was like, Holy Shit! He's a crack-up and a nice guy too. Not a lot unlike Dewey. Because Dewey lives inside of Tommy - but not the alcoholism part. He's really funny. He's really creative. It's fun to watch him on set. He comes up with things. He's a real pro too.
SLF: Would you like to publicize any project you're working on?
DEREK:

Well, right now I'm guest starring on an episode of The Mentalist. (Sundays, 10E/9C.)
SLF:

I watched you in an episode of NCIS as well as the Law & Order: LA episode I mentioned earlier.
DEREK: Yeah, there's a lot of those little 1-2 day guest stars. They come and go. They can't all be SouthLAnd. They keep you going.
SLF: Anything else you would like to add?
DEREK:

I had a wonderful time on the show and it was a great experience.
Thank you, Derek, for taking the time out of your busy schedule to Skype

with

us.